Sand Muller Machine
We have a 12 Sand Miller machine. Which demonstrates our production capacity. With the help of which we fulfill the demand of our customer in time. For use in sand molds, sand needs to be well mixed and knitted. Sand, water, and clay are used to mix sand. Sometimes chemicals are also used.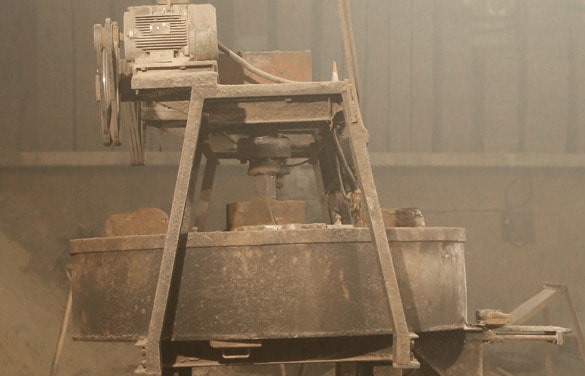 Casting foundry
Our casting foundry has the capacity to melt 10 to 15 tons of metal per day. We offer Dumbbells, Weight Plates, Other Machinery and Industrial Casting. We have cast more than 500 products. The molten metal is meticulously molded. Once in the mold, the metal cools and solidifies into a hollow cavity shape. Casting is most often used for making complex shapes that would be difficult or uneconomical to make by other methods.
Foundries are one of the largest contributors to the manufacturing recycling movement, melting and recasting millions of tons of scrap metal every year to create new durable goods. Moreover, many foundries use sand in their molding process. These foundries often use, recondition, and reuse sand, which is another form of recycling.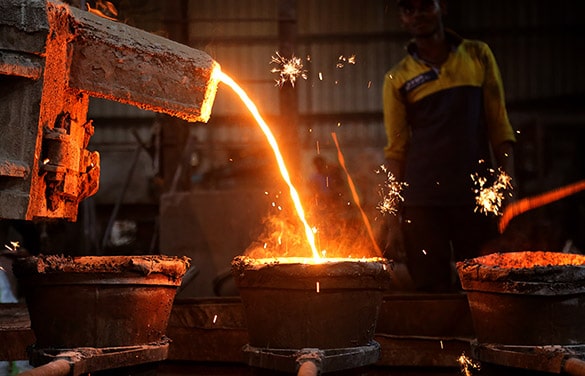 Shot blasting process
This shot blasting machine's capacity is 250 kg. This process is sent to clean dust and burr from dumbbells and weight plates. Is then forward for the next processing.
Grinding process
Grinding is a process of friction. This is used to remove excess metal across the piece. Such as hard bur and chip removal by friction. The grinding process is a subset of cutting. Because grinding is a true cutting process.
A grinding machine is used to finish work pieces from dumbbells, handles, weight plates, and other casting products to the product. High surface quality and high accuracy of shape and dimension. which grinding removes high volumes of metal very rapidly.
Knurling process
The knurling process is a work of art on the outer diameter of the handle. Diamond knurling used for gym equipment handled. Diamond knurling makes it easier to lift weights physically. Or giving good grip. The diamond knurling done by our team is accurate. This lasts a long time.
Knurling (in terms of machine parts) typically have the following characteristics:
1. Durable finish standards
2. Optimally finished
3. Resistant to corrosion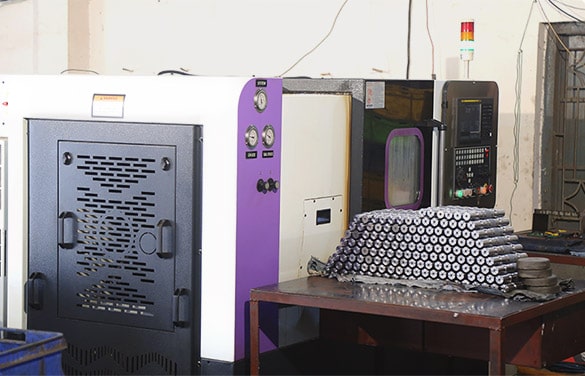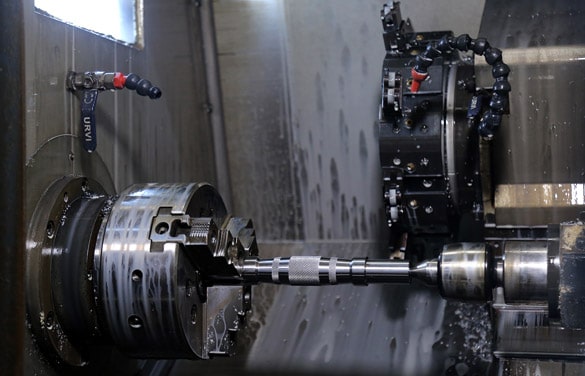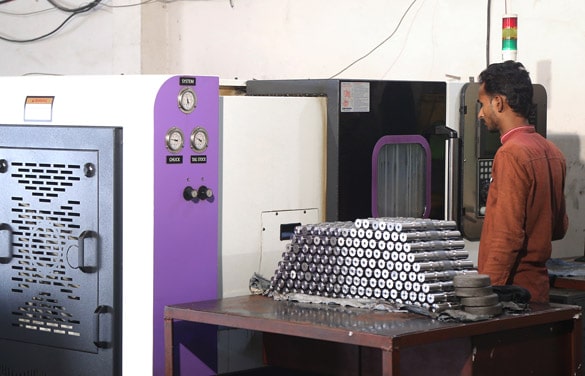 Welding process
We have Three MIG welding machines are available. Welding process a part of all making process, because this process are complete the and final shape given of gym equipment. Our welding machine operator is very experience person. The handlebars of the dumbbells are joined by welding. that's unbreakable joints. This has a long lifespan for exercising in the gym.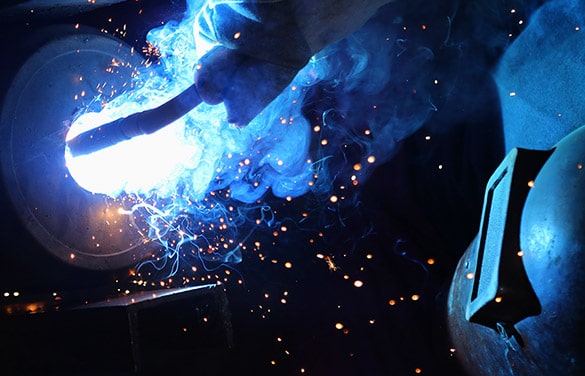 Rubber mixing
The natural rubber used for molding is prepared in a rubber mixing machine. Yes, the process of making this rubber is in-house. When making natural rubber, great care is taken to maintain the quality of the rubber and its various powders or chemical proportions in the chemical mixture to make it strong and durable. To provide the best quality to our customers.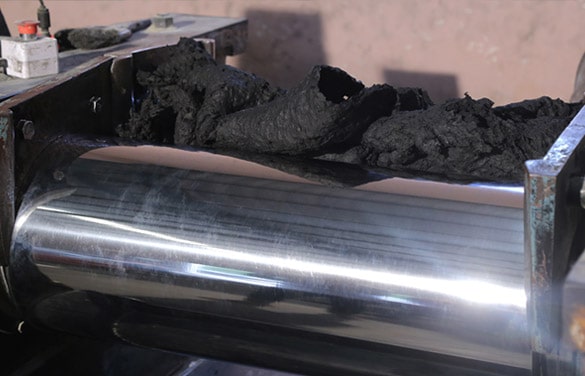 Molding process
We have 13 molding machines available for molding on dumbbells. Rubber molding is the shape formed by pressure and heating. Yes, the casting dumbbells are covered with a rubber cover. So that its elasticity increases. We use natural rubber for molding rubber on castings. So that gym equipment becomes sustainable. It is our responsibility to maintain the quality during molding. Whether it is casting or molding, we can increase the production capacity as per the requirement of the customer.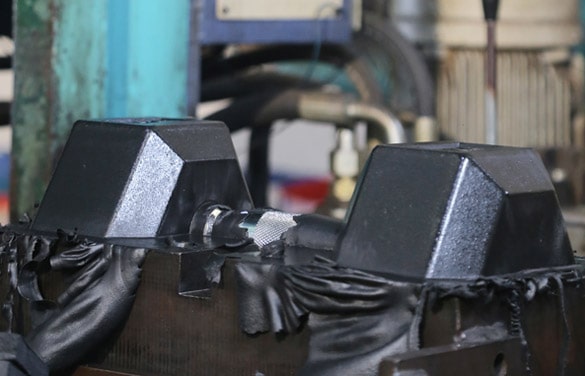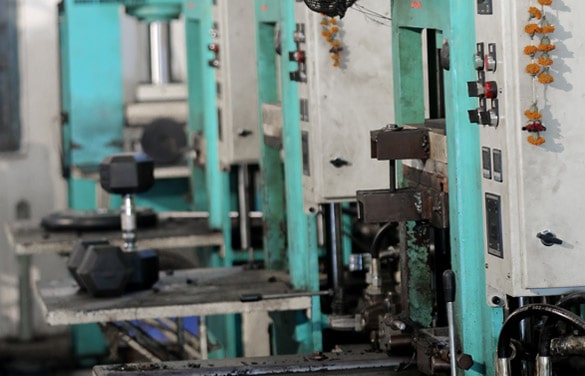 Lable making process
The label-making process is one of our meticulous works. Creating a label in a label making machine is an art. Which our team knows very well. We take care of customer ideas when creating labels. We work with precision in logo, size, and color combination as the customer says in this rubber label. And also we are an OEM supplier so our goal is to get the customer's logo or design in custom logo dumbbells and weight plates and make it look attractive. Customer reputation is our reputation.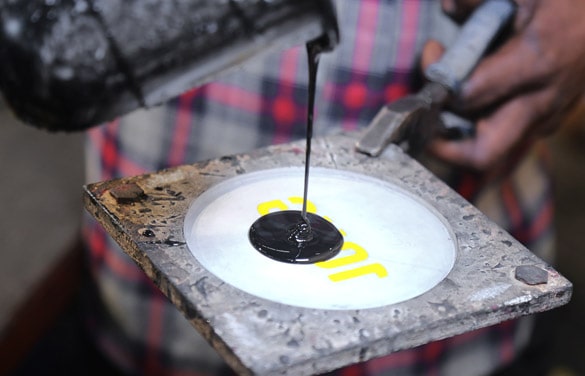 Packing process
Good packing depends on many factors. A lot of people will be thinking about it. We adhere to all packing standards. Special care is taken of the customer and his product during export. Packing is a special process. Which people do not pay enough attention to. Also, our company insists on following all the rules of packing. Every member of our team is aware of the needs of the customer.
The first part is packed in a plastic bag for inner packing. Then kept in 3 ply boxes. And has been sealed. Boxes are arranged on pallets for outer packing. Then strip-warping is done. We use silica gel to protect from the environment. It is then labeled. We provide information of the country of origin, exporter's address, item, quantity, total weight, cash number, etc. on the label.
We strictly follow the packing guidelines. Customer satisfaction is more important to us.